History of abortion in the Greco-Roman world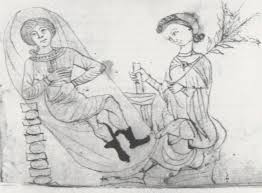 In his Theaetetus, Plato mentions a midwife's ability to induce abortion in the early stages of pregnancy
The ancient Greeks relied upon the herb silphium as an abortifacient and contraceptive. Pliny the Elder (23–79 CE) cited the refined oil of common rue as a potent abortifacient.
Soranus, a 2nd-century Greek physician, prescribed diuretics, emmenagogues, enemas, fasting, and bloodletting for abortion
Tertullian, a 2nd- and 3rd-century Christian theologian, described surgical implements which were used in a procedure similar to the modern dilation and evacuation
Aulus Cornelius Celsus, a 1st-century Roman encyclopedist, offered an extremely detailed account of a procedure to extract an already-dead fetus in his only surviving work, De Medicina.