The Womb (Uterus)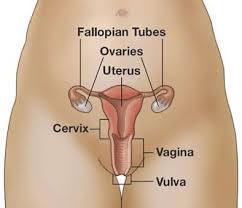 The uterus or womb is female organ where offspring are conceived and in which they gestate before birth
In the human embryo, the uterus develops from the paramesonephric ducts which fuse into the single organ
The cervix is at the lower end and opens into the vagina, while the upper end, the fundus, is connected to the fallopian tubes.
It is located within the pelvic region behind the bladder, and in front of the sigmoid colon.
The uterus is anatomically divided into the fundus, corpus (body), cervix, and the cervical canal.